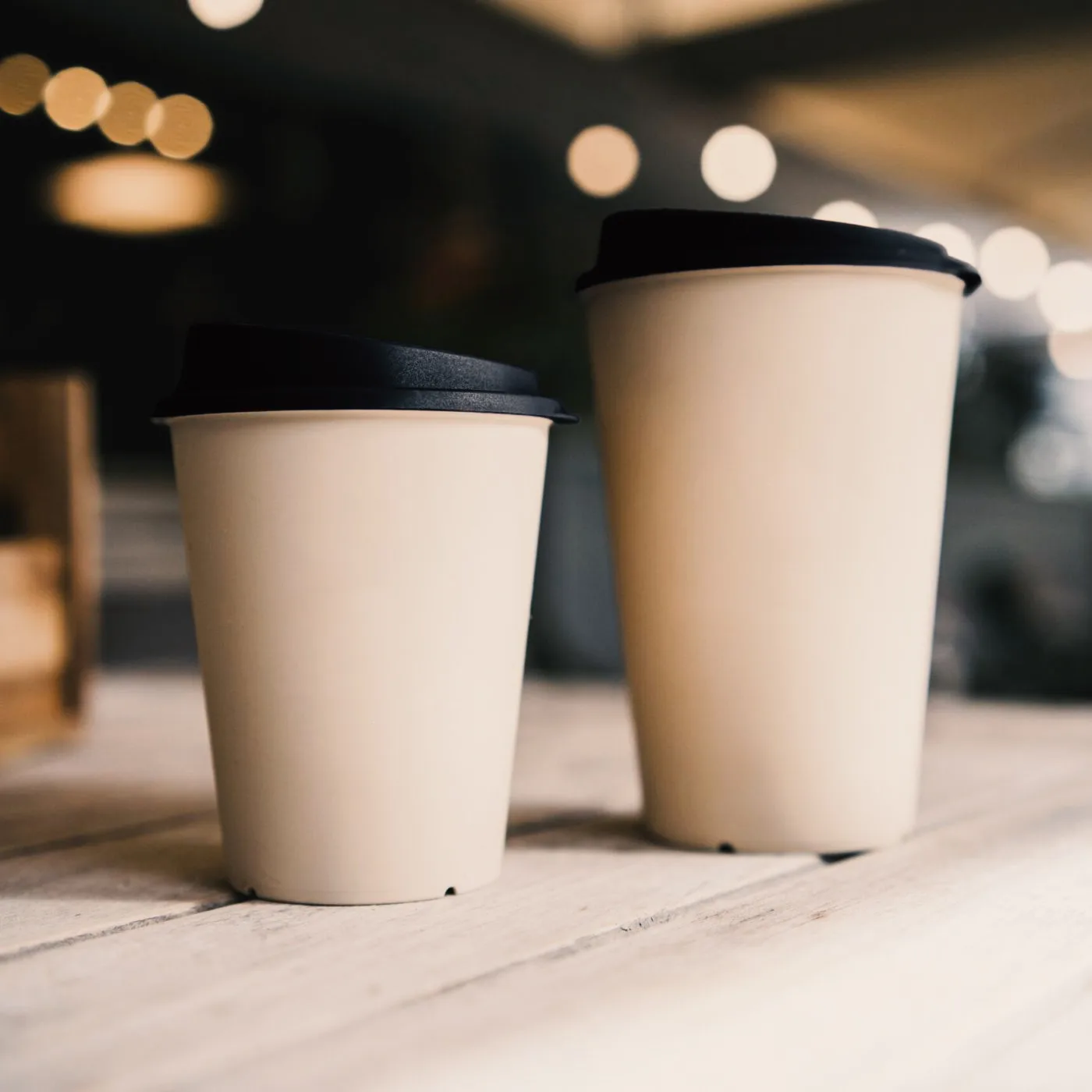 Our coffee concept
Are you already familiar with our coffee concept?
We at Dutch Cups produce reusable coffee cups in the Netherlands. Our specially designed polypropylene coffee cups not only offer an environmentally friendly alternative to disposable cups, but are also available in different sizes, colours and the matching lids are available separately. Our coffee cup range consists of the Brass 0.18 litre (available soon), the Jive 0.20 litre, the Fusion 0.30 litre and the Tango 0.40 litre.
With our reusable coffee cups you can not only make a statement in terms of sustainability, but also make your brand stand out. Personalise your coffee presentation and create a unique experience for your customers. Curious about the possibilities of printing products? Our printing page is the place where you can find all the information.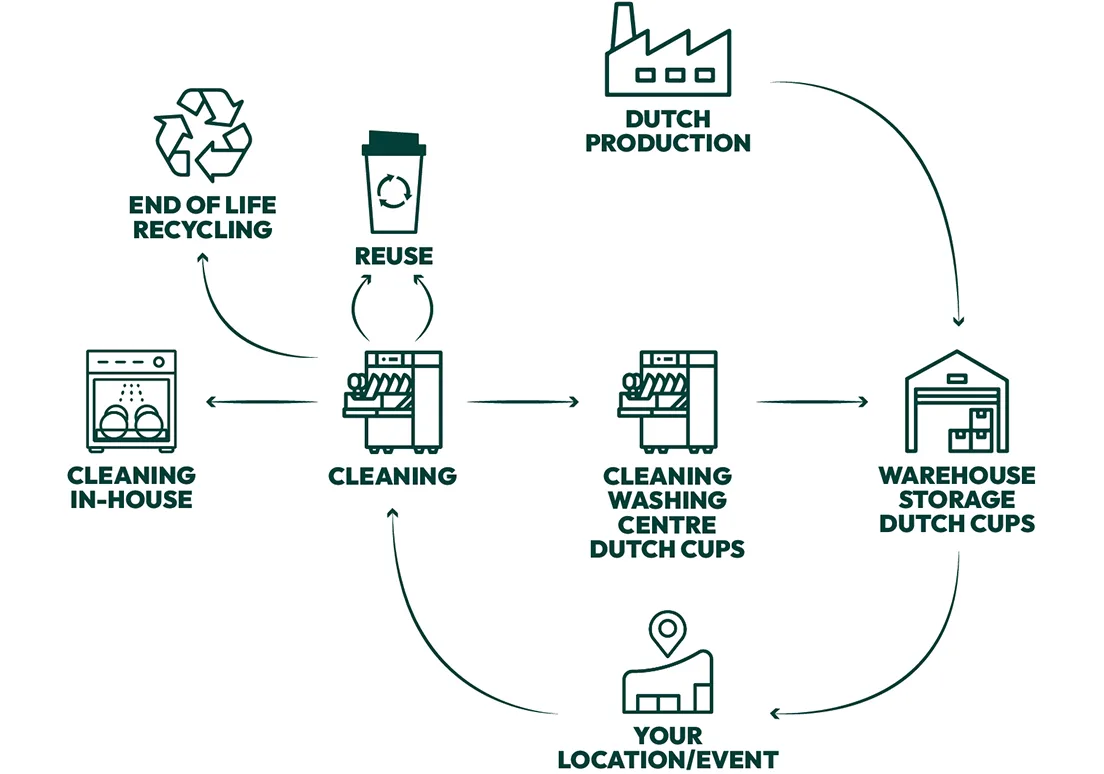 How does it work?
Through our webshop we offer a wide selection of coffee cups in different colours, so that you can choose the perfect cup that suits your company. If you are interested in personalising the cups, please contact us via the contact form. We are happy to think along with you about the required amount of cups and the ideal printing that matches your wishes.
As soon as your order is complete, we will produce the cups and print them if desired. Both processes take place in the Netherlands. In this way we reduce our ecological footprint and we can quickly deliver the cups to you at the desired location. You can get started right away with your reusable cups. The cups are easy to clean yourself or you can choose to have them cleaned by us in our washing centre. We collect the used cups, clean them, store them in our warehouse if necessary and then return the clean cups when there are dirty cups again. If it is necessary to replace the cups after frequent use, you can return them to us and we will ensure that they are recycled.
Are you more interested in renting than buying? Renting is also possible with us. Discover the rental options for coffee cups or for more information about renting, check out our rental company GreenCups.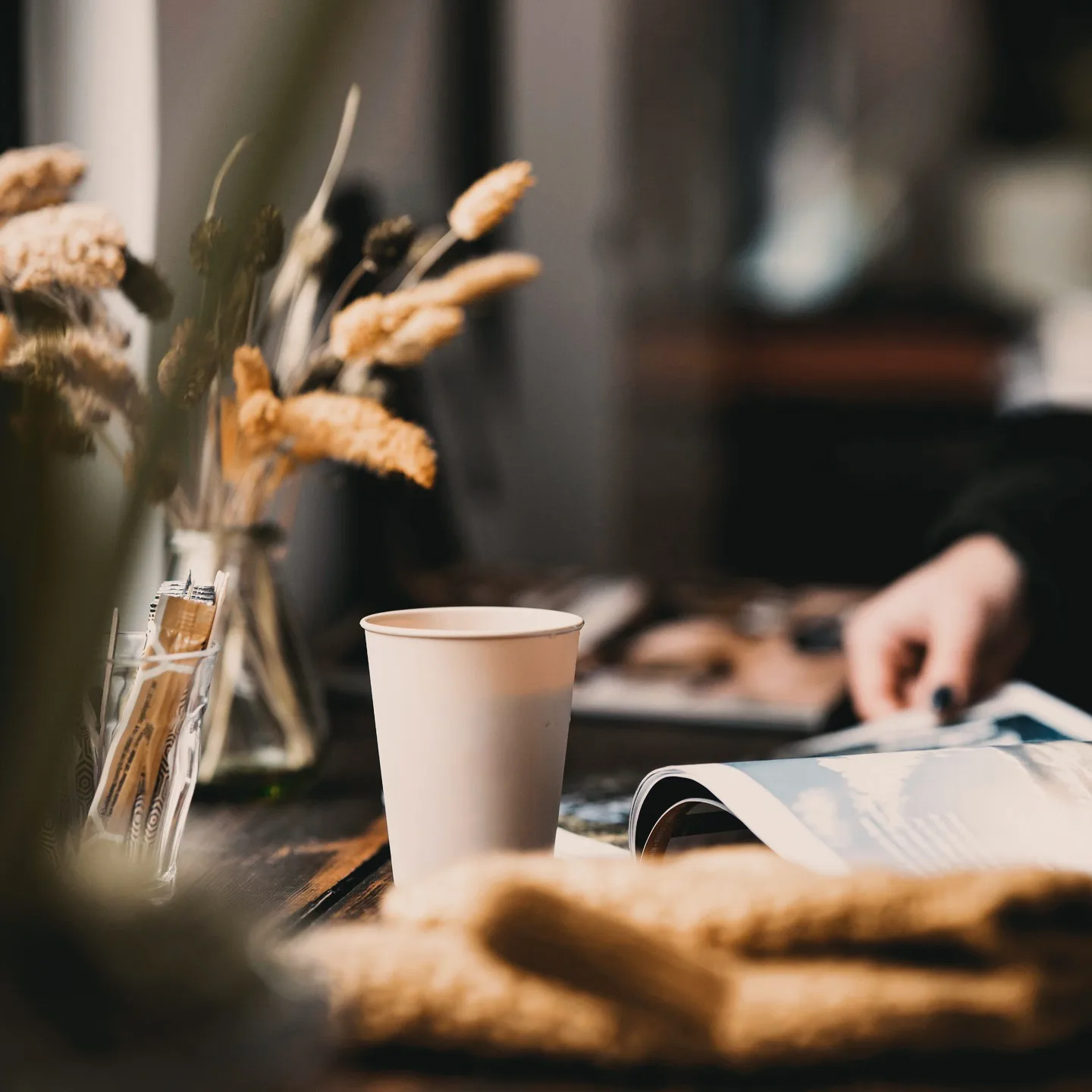 The law
The SUP legislation came into effect on July 1, 2023 and restricts the use of disposable plastic products. The purpose of this law is to reduce plastic waste and protect the environment. The law covers products such as disposable cups, plates, cutlery, straws, stirrers and food packaging. It is forbidden to provide these products for free and a fee must be charged for them.
From 1 January 2024, hotels, cafés and restaurants will not be allowed to serve disposable cups or containers with plastic in them to customers. Reusable tableware is standard. Also for example, offices, company canteens, schools, sports clubs, associations, closed events and amusement parks may only use reusable cups and trays.
The 10 benefits of reusable coffee cups
Sustainable: Our coffee cups are made from high-quality reusable plastic, making them a sustainable choice for reducing waste.
Cost efficient: Thanks to their material, the cups can be used several times, reducing your cost per use per cup.
Colourful: Personalise your coffee mug with a range of colour options to express your own unique style.
Practical: The cups are easily stackable, so they take up little space and are convenient for storage.
Easy to clean: The cups can be cleaned effortlessly by hand or in the dishwasher, making them ready for use again in no time.
Recyclable: When the cups reach the end of their lifespan, they can be returned for recycling, thus contributing to a circular economy.
Comply with SUP legislation: Because the cups are reusable and environmentally friendly, they comply with the legislation.
Brand identity: Personalise the cups with your company logo or any other print, reinforcing your brand identity and creating a unique brand experience.
Spill resistant: Place a lid on the cup and let your customers enjoy a spill-resistant coffee experience on the go.
Free from BPA: Our cups are safe to use, free from harmful substances such as BPA, and offer a healthy and carefree drinking experience.
Coffee Cup Brass (available soon)
0.18 litre / 180 ml
Coffee Cup Brass 0.18L PP Cappuccino Brown
Available soon
Coffee Cup Jive
0.20 litre / 200 ml
Coffee Cup Fusion
0.30 litre / 300 ml
Coffee Cup Tango
0.40 litre / 400 ml
Request quotation
Large quantity order, colour requests, print requests or curious about all options? Request a non-binding quotation!
Request a quotation
Request samples
Curious about our glasses and do you want to test them? We can send you a one-time package with two glasses per type, completely free of charge! Then you will soon be just as enthusiastic about our glasses as we are.
Request Samples